I'm excited to learn how to make maps this coming class.
Reading "The Spatial Turn in Literature" was an insightful piece that emphasized a collective ownership in documenting information through a GIS such as Google Maps. While reading the Intro to Spatial Turn piece, I couldn't help but think of The Victorians' obsession with space, whether Dickens' is giving readers a picture of London in Bleak House or George Eliot is providing readers with a provincial landscape. In those visuals and images of, for example, the slums of London in Bleak House, we not only get street names and descriptions, but we learn a culture, we learn about the masses – we meet Jo, who is reflection of the area and all of its problems or we go into Krook's Rag and Bottle Shop.  
While Dickens theorizes these communities and provides his readers with different maps of London – its slum or Chesney Wold, imagine what such authors would've done with access to a program like Google Maps?!
This is a project of Dickens' London – click on a part of the map, and it will lead you to some information about what you clicked.
David Copperfield Walk – this link leads you a interactive map, that provides you a walk in London that would be an overview of David Copperfield, a novel that many say is the most autobiographical of Dickens' works.
Thinking about my current interests in writing studies, this is a cool website I found dedicated to a map of the 2014-2015 JIL  (they also have maps for the two previous years) and also Comp/Rhet programs. The map is interactive and when you further click, it will take you to the school's website or the application on inter folio. PhD Program map and JIL.  Updates are posted to Twitter. The JIL map was created in response to a blog post, "Migrating the MLA JIL From List to Service." I like the dialogue that was made possible in a digital space such as a blog and google maps.
Here is a screen shot of the Comp/Rhet PhD programs. If you go on the site, you'll see the JIL as well.
I'll come back to this post when I learn how to make a google map.
That's all for this Sunday afternoon.
---
Well, now it's Monday night . . . I was looking through the last submission of Kairos, the journal I wrote about in one of my prior posts. One of the articles was about digital pedagogies and I bumped into one about google maps, cultural narratives and theorizing space and place! It's awesome because I do all of the above, without google maps, so now I have to figure out to use google maps in class!
Thought I had to share!  So I just copied and pasted it here. Check it out below!
Crystal N. Fodrey: Practicing Facilitas in Digital Spaces
Strategic Approach: Teaching Philosophy
Fostering the development of facilitas—Quintilian's term for the ability to communicate effectively and ethically in any form, in any situation—is the primary tenet of my writing pedagogy. I believe that with an understanding of how to analyze, enact, and occasionally disrupt conventions of audience, purpose, and genre in particular, students can best work toward becoming autonomous writers with the agency to communicate effectively in myriad forms and effect positive changes in the communities for which they write. The goal of cultivating such rhetorical flexibility and savvy is achievable when, in my role as instructor, I also practice facilitas and have reasonable context-based expectations of my students. For example, my approach to multimodal composing in First-Year Writing (FYW) courses is usually to offer it as a student-initiated, situational practice within the framework of so much to do in so little time. Especially in a course where students are expected to learn about and conduct rhetorical analysis (many for the first time), learn library and field research methods and practice them, synthesize sources on self-chosen controversial topics, and create public arguments based on the opinions that emerge from those syntheses, it becomes difficult to scaffold multimodal composing practices into the mix (see course description for English 102
).
I therefore approach that aspect of the FYW class with this baseline assumption: Most of the eighteen- to twenty-year-olds who attend The University of Arizona already communicate via digital technologies in various ways and can learn to use template-based applications with relative ease, especially if they are first given time during class to collaborate on penalty-free projects with select applications. Beyond that initial experimentation with the capabilities and functionality of new technologies, what FYW students most need to learn in our limited time is a thing or two about conventions that span across many online publishing venues and multimodal genres (such as nonlinearity and linking) and basic design principles (such as visual organization, coherence, and impact). Also essential are multiple conversations about fair use, copyright, and other ethical concerns regarding representation of self, others, and ideas that students must consider when going public with their compositions. Such an approach builds on what Stuart Selber (2004) calls the "functional literacy" of digital technology that FYW students typically bring to these classes, challenging students to develop critical and rhetorical literacies and become questioners and producers of digital texts.
However, despite my best efforts, something always gets inadequate attention within the context of a given class; more often than not, the fault lies with me for not accounting for new versions and changing functionality of the applications I choose to privilege in the always-too-short semester. In the following section, I share two somewhat successful attempts at integrating dynamic applications into multimodal FYW projects, illustrating that the development and practice of facilitas supports both the teaching and learning of twenty-first century literacies.
The Tactical Field: First-Year Writing
Example 1: Google Maps of Personally Significant Spaces
The curriculum I've designed to meet the FYW course objectives in a way that fits with my teaching philosophy asks students to interrogate spaces (like classrooms) and everyday spatialized practices (like learning in the context of a large public research university) through a rhetorical lens. To prepare FYW students to rhetorically analyze public spaces of personal significance (see assignment sheet
), I first ask them to create Google Maps populated with personally significant physical and digital locations. Initially the maps are meant to serve the purpose of an introduction activity the first week of class. I pull up the students' maps on the classroom computer, and they introduce themselves to their new classmates while navigating through their spaces of personal significance and the narratives they had written about each space on the map. In Spring 2013, this worked amazingly well. Students included images, directions to their favorite hangouts in their hometowns, and they got excited to show off their maps to the class on day two of the semester. Below is the example that I shared with my class in January 2013. After that class period, students then analyzed the dominant cultural ideologies present on their maps. They wrote short narrative and rhetorical analysis essays about select spaces. They added to their maps as their understanding expanded regarding how spaces non-discursively convey messages imbued with ideologies not drastically unlike those they might find in advertisements or political speeches. Through this activity, the expectation of moving between multimodal public writing and academic writing was successfully established in the early weeks of the semester.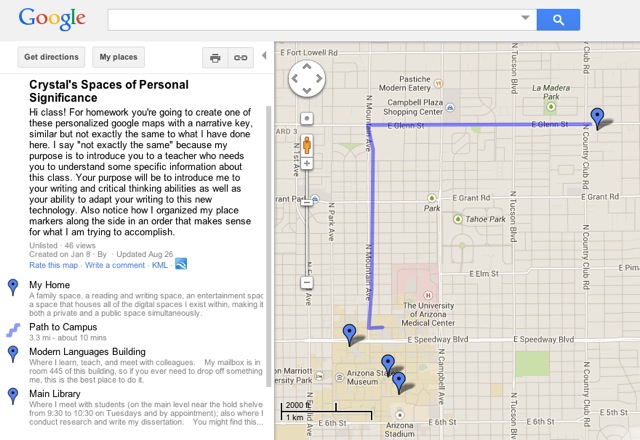 Sample Google Map
(click image caption links for higher-resolution versions; right-click or control-click to open in a new tab)
I shared the same Google Map example at the beginning of the Fall 2013 semester. Of course, the link still worked because my map had already been produced. However, when my students went to create their maps for homework, the rules had changed. A new mapmaking application had replaced the one I used, and that app was in beta testing. The directions I had given my students for homework did not work. Some students were not able to create maps at all; the ones who did could not open their maps in class because the links they posted to the discussion board for homework would not open unless each individual student signed in to their Google account on the one classroom computer connected to the projector. The activity that had worked so well and had become an integral part of the class the previous semester bombed the following semester because I had not anticipated such a drastic change in the functionality of Google Maps. Instead of initiating a positive introductory experience using a familiar technology in a new way, all I managed to do was tarnish my classroom ethos at a critical point in the semester. The lesson I learned in that moment is that the incorporation of rapidly changing technologies into my writing classrooms demands that I anticipate change and adapt lessons, activities, and real-time lectures and discussions to the reality of the technologies at any given time.